First of all, thank you all so much to all of you for your kind comments, they really make my day. Remember when electronic mail was new and how excited you got when you received an email? well, that's the feeling I get when ever I receive a new comment, thank you all.
We FINALLY get Fall weather here in Los Angeles, but only for a couple of days. We're going back to summer by the weekend. It even rained today with THUNDER and all. Well, it really was more like a drizzle, but the clouds were very dark and it was very COLD, like 60 degrees farenheit.
We really need the rain, everyone here loves it when it rains. It gets people in a good mood everywhere. Like when I went grocery shopping earlier today. The guy in front of me let me go first!!!! WHAT???!!! I know, right. He was buying a case of beer, obviously he was going to watch sports on TV, and he actually let me go first. That never happens in the summertime. In the summertime, everyone waits their turn. The nine month pregnant lady barely able to stand, she waits, the mom with ten screaming kids, she waits, the elderly man with a cane, he waits. BUT! we get a little drizzle and......everybody turns into Mary Poppins.
I have another Halloween craft today. This one is so easy, you can do it in flash. I first saw something very similar to what I'm showing today at Marshall's and I LOVED it BUT it was $14.99 too pricey, I thought. I loved it so much that I had to find a way to make it that didn't empty my wallet. Thank goodness for the Dollar Tree Store, they carry this glass vase that was perfect for this project costing me only a dollar plus supplies I already had at home.
Here's what the final vase looks like:
First get all your supplies ready: A black or dark brown sharpie, a glass vase from the Dollar Tree Store or 99C only store:
First, peel off the plastic lable with your fingers, then, pour some Goo Gone on a cotton swab or napkin and rub on the label. The glue residue will dissolve very quickly. It won't give you any trouble at all. You can find this product at Lowe's or Home Depot or you can order it online. Try finding it on www.ebay.com It is a very inexpensive adhesive remover and works on gum, glue or anything else that's sticky. It's a little stinky but you'll be happy with the results.
You will also need a bird paper punch, Mod Podge, a sponge, and black paper. This paper punch is a Martha Stewart brand:
Take your sharpie and draw lines that look like twigs:
If you make a mistake, don't worry, you can erase with acetone:
You can also place a black candle inside or some of those bloody fingers:
Or, take one of those plastic battery operated candles and place inside:
Happy Decorating, Craft On!
I'm sharing these at the following linky parties:
Tuesday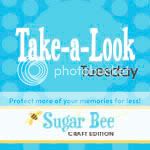 Wednesday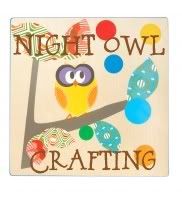 http://thestylesisters.blogspot.com/
Thursday