Happy Pink Saturday Everyone!!!
Today I'm going to post a tutorial for an origami box.
Here's what you'll need: decorative scrapbook paper, paper trimmer, spray adhesive, card stock, and bone folder or a spoon will work too.
The spray adhesive is not really needed if you are going to make this box with heavy cardstock, I like the decorative flower paper but it's too thin for this project so I adhered it to a thick cardstock.
The decorative paper I'm using is actually scented drawer liners and they smell soooo pretty, just like flowers. I got 6 sheets 16.5" by 23" each one. I got them for a reasonable price too at TJ Max.
and look at the box it came in,very pretty. I'll be using it to store my ribbon when I'm finished with the paper.
If you are not using regular size scrapbook paper, you will need to trim it to 12" by 12" and a separate piece that's 12" x 5". Your finished box will measure approx 4.5" by 4.5"
Here's a link that will show you step by step easy to follow instructions on how to fold your paper:
When you go to the site, you may need to scroll down until you get to the pictures.
Origami Box
If you use a spoon or bone folder to press hard on your folds, it will make it a LOT easier once you are ready to put the box together.
One of the folds is kind of hard to follow so I'm posting pictures of it. The extra pictures might help. This is the part where you have to fold the corners in:
and complete the fold, do this for all sides:
Once you fold your paper into a box, you can now finish the cover. My cover is 12" by 5". I glued the thin liner paper onto a heavy cardstock to make it stronger and glued ribbon in between:
Next, you will need to fold it over the box like the picture below. Place it under the box and make the folds on the back to bring the cover all the way over the top:
Make sure it all fits well before you glue the box bottom and back side of the the cover
Glue or attach the box with double sided tape to the cover bottom of the box and back side:
you can click the picture below to see it close up or double click to see it even closer
And that's it! you have a very pretty gift box that you made yourself for someone special in your life. Here's a closer look:
I took a card making class a few months ago with a very friendly and talented group of ladies. The ladies made these boxes for Christmas. They all turned out very pretty and it's where I got the idea of making the cover this way. Previously, I had been making the cover by making a slightly larger box but I like this cover much better.
Today I'm linking to these parties: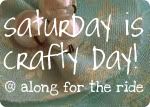 Visit Pink Saturday and Saturday is Crafty Day so you can see other projects.