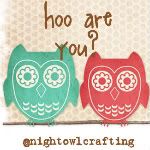 It's Hoo Are You Tuesdays!! Leslie of
Night Owl Crafting
hosts this special linky party. She asks a series of questions that you answer in your blog as a post to let others know Hoo Are You.
1. Have you ever broke a bone or anything on your body?
Nope
2. What is your favorite drink?
Coke, definitely!
3. When is your birthday! You don't have to tell the year you were born!
August, I'm a Virgo!
4. Do you have any allergies?
Oh yeah, work allergies, that is, specially hard labor!
5. What is one of your all time favorite movies?
Hmmmmm, I have so many. I'll say, anything Johnny Depp.....I just love him. (shhh, don't tell my hubby)
And with that, I shall leave you with this:
Warning
, you might experience light headedness. Continue at your own risk!
For those of you who chose an alcoholic beverage as your favorite drink, you may want to take a sip before continuing.........seriously!
Courtesy of Wikipedia.com