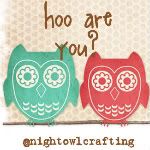 I'ts Hoo Are You Tuesdays once again. My favorite part of Tuesday linky party. Join Leslie at Night Owl Crafting where she'll ask you a series of questions that you answer on your blog so that other bloggers can get to know you better.
1. What is your natural hair color?
Dark brown
2. Which do you prefer, sunrises or sunsets?
Both are beautiful but since I'm not a morning person, sunsets would be my first choice
3. What is the first thing you notice about people?
When people approach me, the first thing I notice is their eyes and their smile. However, in a general setting, where there's random people, the first thing I notice is their height. In a room full of women, the first thing I notice is their hair style and in a room full of men, the first thing I notice is their clothing.
4. Do you prefer talking or texting on your cell phone?
Texting, I love to text, it's fast and efficient. All my friends and relatives know this about me. I prefer face to face conversations but second to that is texting. I SERIOUSLY do not like talking on the phone, unless it's an emergency, I'd rather be texed or face to face.
5. What size of shoes do you wear?
This is a funny question! but hey, maybe you want to know,
I wear a size 6 and I LOVE shoes; strappy, slingbacks, pumps, stilettos, wedge, platform....you name it.